Out-of-context Panel Theater presents: Popeye's proclivities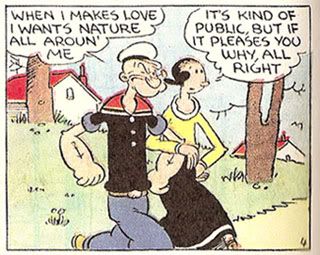 Popeye the Sailor: Seafarer. Prizefighter. Exhibitionist.

(Also, you should all go buy Fantagraphics' POPEYE collections right now. GLORIOUS.)
Anybody know if there are size issues on AO3 icons? File size, I mean. I created a pseud specifically for in-character Yuletide replies, but the icon…

It's a cute little gimmick, embedded below the cut. Very simple, but quite fun to play around with. Trying to figure out what its note scheme is, but…

My first time ever seeing two stops on the same tour! Comments are screened; leave your number if you'd like a concert call.