On Saturday, I went to the Elvis Festival in Tupelo, Mississippi. Elvis was born there on January 8, 1935, and performed some concerts there that townsfolk still remember. They've been commemorating the King for about ten years worth of festivals at this point, so you have to figure they've got it down by now. I decided to drive to Tupelo and check it out.

On my way into town, I stopped at Elvis's birthplace. Like many of his generation -- especially the poor, which he was -- Elvis was born at home. This was home: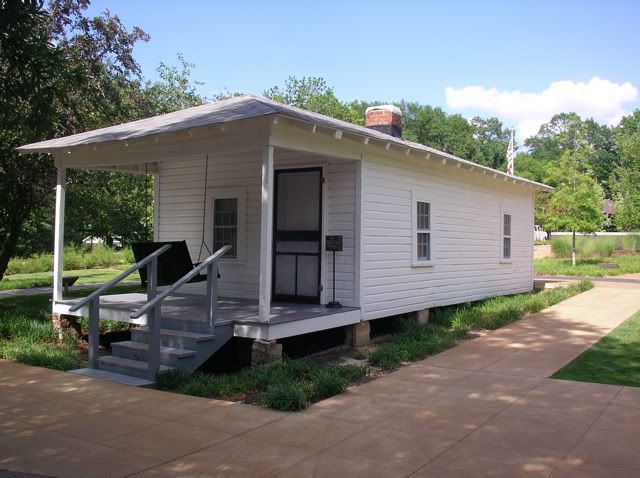 The picture doesn't do justice to how small it was. The house is maybe twenty feet by forty. I didn't buy a ticket to go inside. The outside was depressing enough. Elvis's father Vernon built the house. Now people come from all over to see it.

Elvis came from this; he wound up in Graceland.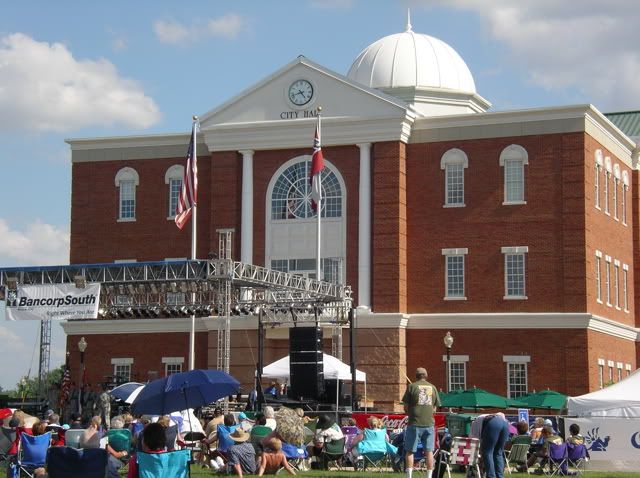 This was the Elvis fest. It's on the old Tupelo fairgrounds, and Elvis actually performed here back in 1956. As you can tell, the crowd wasn't huge. It was early yet, though. So I decided to go walk around and see a little of downtown Tupelo. It didn't take long. There wasn't much of it. I did see one notable landmark: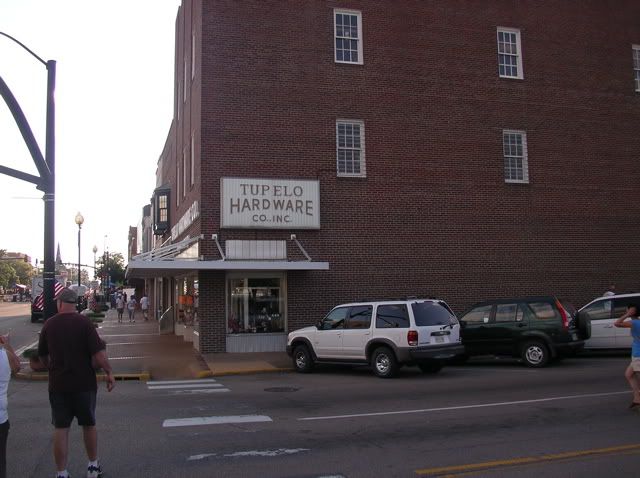 The Tupelo Hardware Store. That's where Elvis Presley got his first guitar. He went in with his mom to see about getting a bicycle. A .22 rifle caught Elvis's eye, and he lobbied his mother to buy that for him instead. He was eleven, and a lot of eleven-year-olds had .22s, but his mom was reluctant. They talked their options over with the salesman, and eventually decided that Elvis should get a guitar. It cost seven dollars and ninety cents.

I honestly had never had much of a sense of Elvis Presley as a person before, but walking around his first home town gave me a sense of what he came from. I felt a surprising amount of empathy for the King. He came from hard times, rocketed to the top, and died too young. His professional accomplishments are familiar to everyone; I hadn't thought about what it would be like to be in his shoes and experiencing the ride from the bottom to the steep, scary pinnacle, and contemplating that gave me a new respect for him even as I felt sorry for the guy.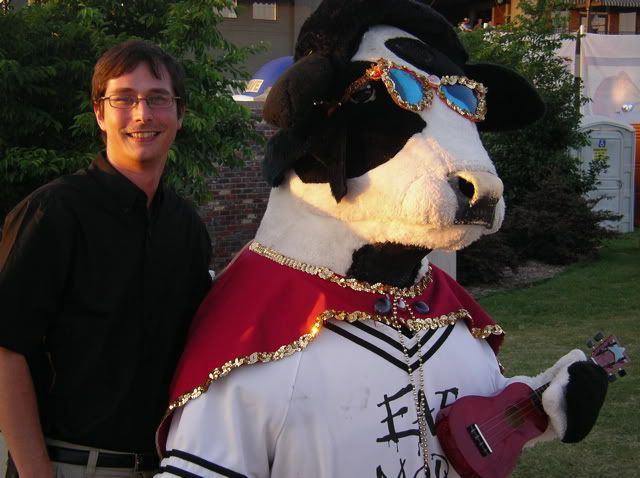 Everything was Elvis. Chik-Fil-A sent out one of their cow mascots in Elvis regalia. Men wore Elvis haircuts, sideburns, sunglasses, sneers. No one was immune: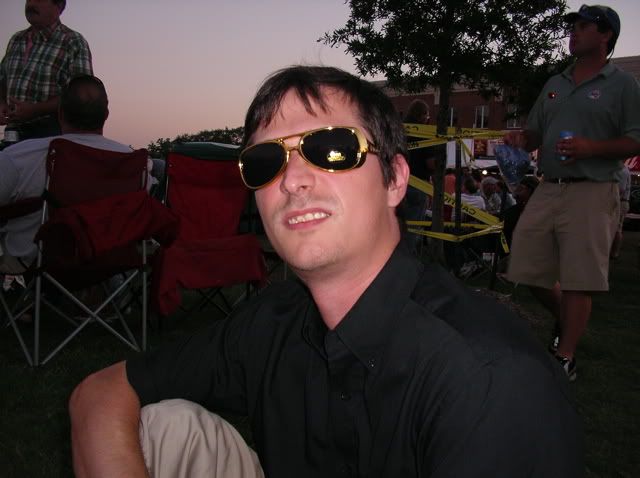 There were, of course, Elvis impersonators -- or, as they prefer to be called, "Elvis Tribute Artists." The late-career Elvis, with jumpsuit, shades, and scarf, seemed to be the popular object of tribute, but one guy embodied the fifties Elvis, and he's the guy who won. He was really good, too. I chatted with him briefly afterwards -- the ETAs were a nice bunch of guys, all very talented at their chosen trade, and I was glad to have seen 'em keeping the spirit of the King alive. Here's the winner with his $1500 check: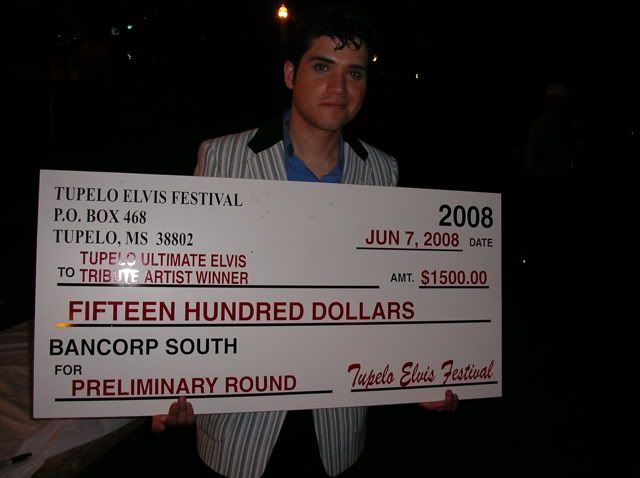 And the Elvis portion of the festivities that night was wrapped up by a terrific Elvis tribute performance by a guy who is, apparently, regarded as the best in the world at this peculiar art. Here he is, in blur-o-vision, with backup vocals by Sweet Inspiration, a fine gospel trio: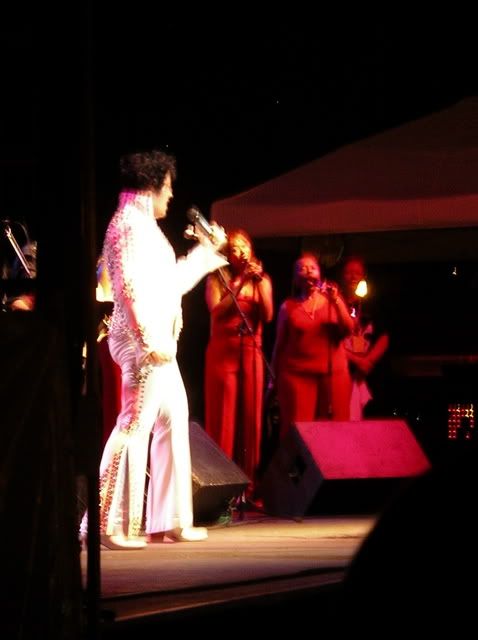 To close out the festival, headliner Jo Dee Messina came out and performed some of her contemporary country hits. I like old-school country, so her stuff wasn't my thing, but she connected nicely with the audience and had a nice friendly stage presence.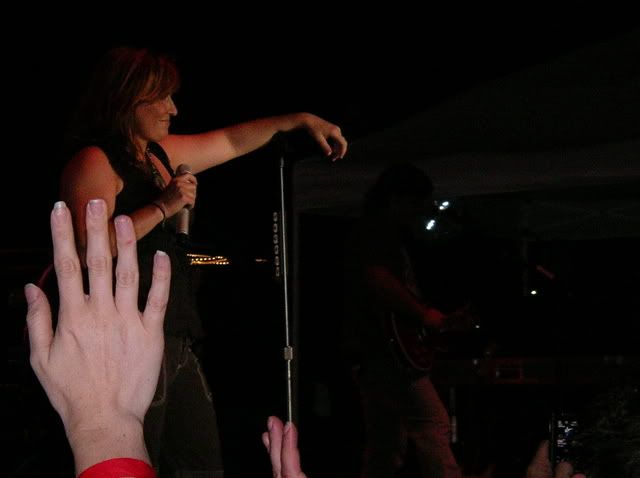 And I don't have a good photograph of this, but there was another nice thing about the night. D.J. Fontana, who was the drummer for a bunch of Elvis's Sun label recordings, and who performed on stage with him in Tupelo in 1956, came for the festival and drummed up a storm at age 77. He played drums while the winner of the year's Elvis Tribute Artist contest sang his victory set, and you know that had to be a genuine thrill for the winner.

I met Fontana afterwards and shook hands. Pretty good capper for an Elvis festival: I can now say I shook the hand that shook the hand of the King of Rock'n'Roll.